Request for
product selection
Single-component dispensers
Micro-volume dispensing screw pump
eco-PEN 300/450/600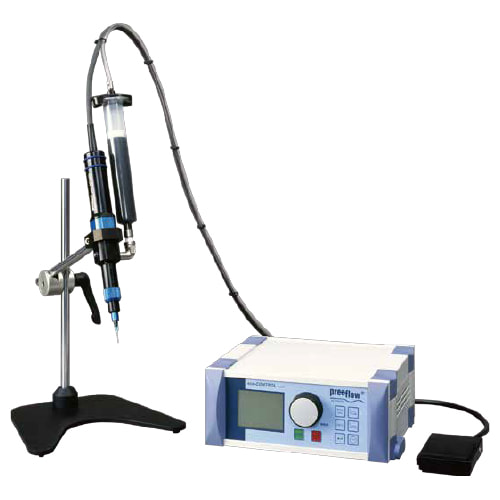 The eco-PEN 300/450/600, developed by ViscoTec, is a new and innovative constant-volume volumetric dispenser, suitable for micro-volume dispensing of low to medium viscosity liquids in diverse applications.
Highly accurate micro-volume volumetric dispensing, free of the influence of change in viscosity
Stable dispensing independent of the initial pressure as well as excellent pressure tightness that eliminates the need for valves
Suck-back effect reliably stops liquids at the end of dispensing. It prevents liquids from dripping, resulting in excellent finish to pattern drawing.
Simple structure and easy maintenance
Specifications
eco-PEN300

eco-PEN450

eco-PEN600

Feeding unit

Luer Lock (patented) with O-ring

Input pressure

0 to 0.6 MPa (Non-thixotropic liquid)

Maximum
dosing
pressure

1.6 to 2.0 MPa

Specific
air-tightness*1
Approx. 0.2 MPa
(Reference media: Approx. 10 mPa・s/20ºC)
Wet
component

HD-POM/Stainless

Sealing

High polymer PE, VisChem

Fixed sealing

O-ring
(FKM for liquid seal, NBR for dust seal)

Motor

18 to 24 VDC (with encoder)

Dosing rate

0.012ml/
rotation
0.05ml/
rotation
0.14ml/
rotation
Dosing
accuracy*2

±1%

Repeatability

99% or higher

Minimum
dosage

0.001ml

0.004ml

0.015ml

Volume
flow rate *3
0.12 to 1.48
ml/min.
0.5 to 6.0
ml/min.
1.4 to 16.0
ml/min.

Weight

280g

300g

650g
*1: Maximum dosing pressure and specific air-tightness vary in proportion to the change in viscosity. Check on the manufacturer's recommended values.
*2: Volumetric dosage dispensed as an absolute deviation per dispenser rotation. It varies according to the viscosity of medium to dose.
*3: Volume flow rate varies according to the viscosity and initial pressure.