Request for
product selection
Single-component dispensers
Posi-load metering pumps 50/100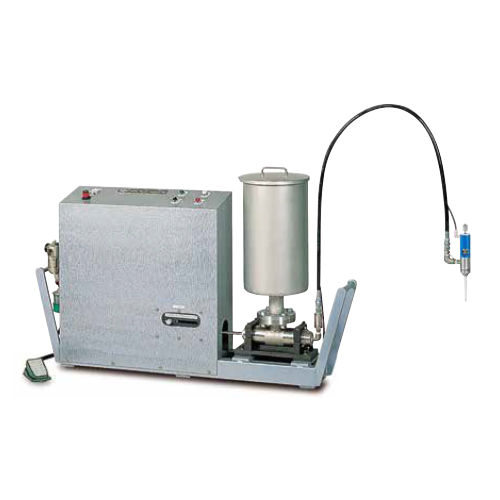 The mechanism of this dispenser is simple with a metering section below the tank. Liquid is sent directly to the metering pump, enabling accurate metering and discharging without any pressure required.
Our unique posi-load metering pump is used. A wide output range is available by selecting from different pump sizes.
Output volume can be changed easily with a stroke adjustment knob. A discharge pressure reducing valve enables easy adjustment of the discharge rate.
All necessary switches used during work are mounted on the control panel, so that the operator can perform proper operation without difficulty.
Specifications
Machine name

Posi-load metering pump Type 50

Posi-load metering pump Type 100

Discharge range

0.79 - 147.23 ml

23.75 - 588.75 ml

Viscosity range

1 - 1,000,000 mPa・s

Material tank

20L open tank
(stainless steel)
40L open tank
(stainless steel)

Output head(valve)

FV-SWA

Metering system

Volumetric metering(Posi-load type)

Drive system

Air cylinder drive

Control system

Sequence control (PLC)

Air supply

0.4MPa minimum (Dry air)

Power consumption

AC100V・100W

Weight

Approx. 60 kg

Approx. 100 kg