Request for
product selection
2-component dispensers
2-component dispenser
ECOFLOW-R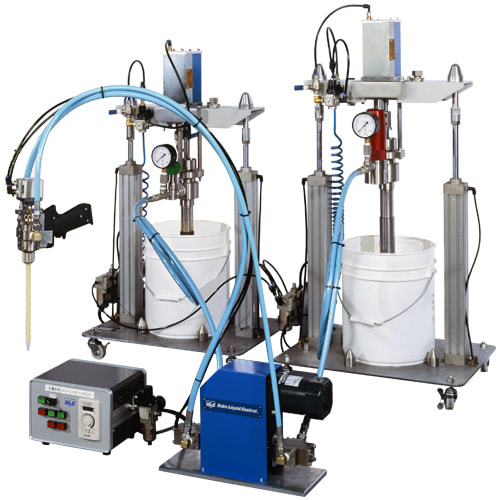 Volumetrically dispenses two-component acrylic adhesives directly from pails.
The Ecoflow-R is a simple system for easily metering and mixing two-component resins directly from pails without using reservoir tanks.
Three mixing ratios - 100 : 100, 100 : 50, and 100 : 10 - are available and determined by the type of Twin Rotary Ratio Valve used.
The Twin Rotary Ratio Valve ensures dispensing at stable volume and ratio.
Discharging liquid directly from the pail can minimizes any loss of liquid.
The Ecoflow-R is easily movable because it is compact in size, occupies just a small space and is equipped with casters.
Specifications
Ratio,
unit
combination
and dosing
speed

Ratio

Component A

Component B

Discharging
speed
range
(ml/min.)

100:100

(A)

(A)

150 -
430


100:50

(A)

(B)

110 -
320

100:10

(A)

(C)

80 -
230
Wet
component
material

Stainless, PTFE, O-ring (EPDM)

Drive
system

Air cylinder drive (0.5MPa)

Liquid
tank

Pail can

Power
consumption

AC100V・300W
(A) :Φ8 nozzle×4 ・ (B) :Φ8 nozzle × 4 (*) ・ (C) :Φ3 nozzle × 4
(*): Strokes for (A) and (B) differ from one another.
Applicable liquids
| | |
| --- | --- |
| Applicable liquids | 2-component acrylic adhesive agent |