Request for
product selection
2-component dispensers
Very-small-amount 2-component dispenser
Mu I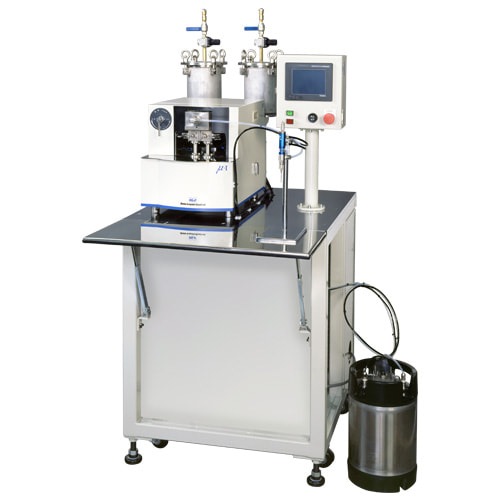 High accuracy dispensing in a range as wide as 0.07 to 7 mL!!.
Thanks to plunger metering pump technology, the Mu I enables high accuracy dispensing, ranging from a very small amount of 0.07 ml to 7 ml.
The system's plunger pump metering method accommodates a wide range of liquids of low or medium viscosity.
Use of IN and OUT changeover valves realizes precise constant-volume discharge.
Thanks to a variable-speed electric rotary mixer, the mixing speed is changeable. You can determine the mixing speed according to the characteristics of your resin.
Easy to clean up after use by one-touch operation.
Compact design: The system occupies very little space when installed.
Specifications
Discharge range

0.07 – 7 mL
(Depending on mixing ratio and pump diameter)

Mixing ratio

100:100 – 100:6

Viscosity range

1 – 50,000 mPa・s

Material tank

1L resin tank, 1L hardener tank
(Stainless steel)

Flushing tank

10L force-feed tank
(Stainless steel)

Pump stroke

5 mm – 70 mm

Metering system

Volumetric metering
(Plunger type)

Drive system

Servomotor drive

Control system

Sequence control (PLC)

Air supply

0.5 MPa (Dry air)

Power consumption

Φ3 AC200V・600W