Request for
product selection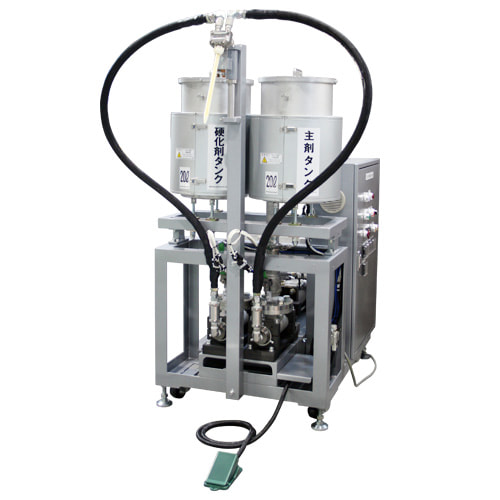 This 2-component dispenser operates two posi-load metering pumps using a double-rod air cylinder.
Its structure is kept simple to ensure ease of operation and reduced costs.
This volumetric metering type posi-load pump contributes to high-precision metering and dispensing since it is not affected by changes in material viscosity.

The simple structure strengthens this dispenser against mechanical failure, enabling ease of maintenance.
The compact body requires only a small installation space.
Specifications
Discharge range

2.5 ml - 294 ml/shot
(Depending on mixing ratio)

Mixing ratio

100 : 100 - 100 : 4

Viscosity range

1 - 100,000 mPa・s/25℃

Material tank

65L sealed tank
(Stainless steel, with stand)

Mixer

Static mixer

Metering system

Volumetric metering (Posi-load type)

Drive system

Air cylinder drive

Air supply

0.5 MPa (Dry air)

System size

920(W) x 910(D) x 998(H)mm