Request for
product selection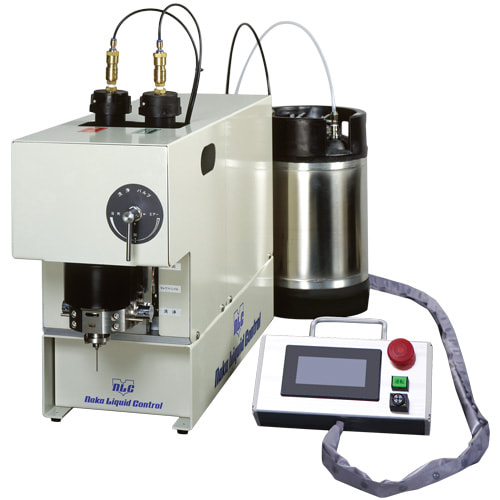 Featuring NLC's technology for mixing and dispensing minute amounts of 2-component resins
The integrated plunger pump metering method ensures highly precise dispensing of minute quantities of liquid in the range of 0.01-2.8 ml. The combination of AC servo drive and programmable control accommodates a variety of dispensing patterns.
The integrated plunger pump metering method can accommodate a wide range of liquids from low to high viscosity.
The AC servo drive provides precisely metered dispensing without pulsation.
Two independently functioning plungers allow a wide range of ratio adjustments.
The adjustable-speed rotary mixer enables control of mixing speeds to accommodate the application and characteristics of the resin.
One-touch cleaning control after dispensing operation ensures easy maintenance.
The compact unit occupies very little space.
Specification
Discharge range

0.01 - 2.8 ml
(Depending on mixing ratio and pump diameter)

Mixing ratio

100:100 - 100:3.5

Viscosity range

1 - 50,000 mPa・s

Material tank

Cartridge tank (150ml)

Flushing tank

10L force-feed tank

Mixer

Dynamic mixer

Metering system

Volumetric metering (Plunger type)

Drive system

AC servomotor drive

Control system

Sequence control (PLC)

Air supply

0.4 MPa (Dry air)

Power consumption

AC100V・700W

Weight

Approx. 95 kg
*The values given above are theoretical and may change depending on the type of liquid handled and conditions.