Request for
product selection
2-component dispensers
2-component
Robot dispenser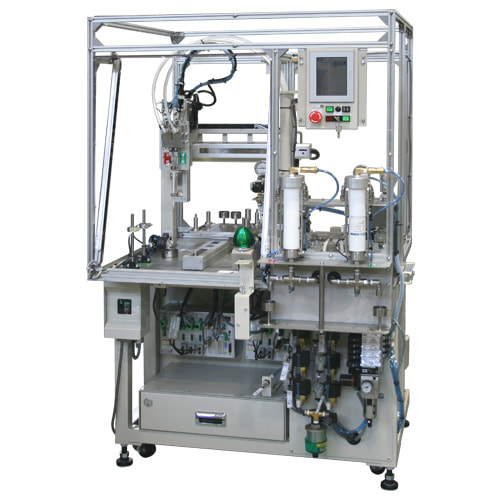 2-component resins, accurately discharged from the volumetric metering plunger pump and mixed in the static mixer attached to the robot, are applied through the nozzle mounted after the static mixer on the robot.
Our own developed plunger pump enables use with liquids from low to high viscosity.

Liquid can be used directly from its cartridge tank without trouble. Easy to replace.
Integration of a plunger pump and robot enables resin application in various patterns.
Specifications
Discharge range

0.01 - 2.8 ml
(Depending on pump diameter)

Mixing ration

100:100

Viscosity range

1 - 50,000mPa・s

Material tank

Cartridge tank (330ml)

Mixer

Static mixer

Metering system

Volumetric metering (Plunger type)

Drive system

AC servomotor drive

Control system

Sequence control (PLC)

Robot

300 (X) × 300 (Y) × 100 (Z) mm
Rectangular type

Air supply

0.5 MPa

Power consumption

φ3 AC200V・500W

Weight

500kg