Request for
product selection
2-component dispensers
Personal dispenser
PD series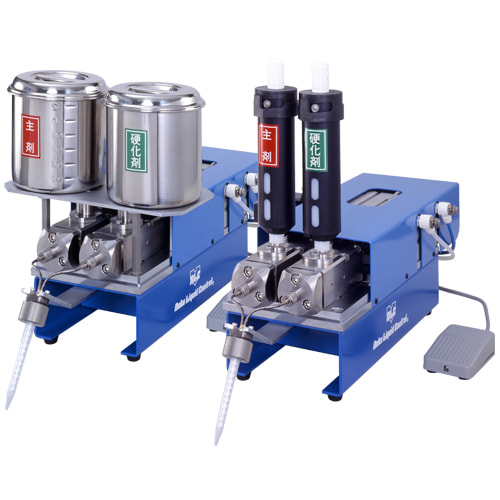 A low price enables one dispenser per operator, which improves workability.
Small in size, the dispensers do not take up precious space.
As mediums are measured by volume, dispensing rate remains consistent against changes in medium viscosity.
Types
Material tanks

Type A

1L open tank (stainless steel)

Type B

150ml cartridge tank

Mixer

Type MC・MS

Static mixer
(18・24・32 element)
Type: MC 10-18
Type: MS 08-32・08-24・06-32・06-24

Type MA・MAH

Static mixer
(12・17・21 element)
Type: MA 5.4-17S・MA 4.0-17S
Type: MAH 06-21T・06-12T

Metering pump

Select from Φ3.0, 4.0, 5.5, 7.0, and 8.0.
Specifications
Discharge range

0.1 - 2.0ml
(According to pump diameter)

Mixing ratio

100:100 ・ 100:76 ・ 100:47 ・ 100:25 ・ 100:14
(Select from 5 types)※


Viscosity range

1,000 - 100,000 MPa・s

Metering system

Volumetric metering (Posi-load type)

Metering pump

Select from φ3.0, 4.0, 5.5, 7.0, and 8.0.

Drive system

Air cylinder drive

Control system

Program relay control

Air supply

0.4 MPa (Dry air)

Power consumption

AC100V・100W

Anti-gel timer

PC inside
※ When the base resin pump diameter is Φ8